Mesap goes to Europe: The monthly in-depth look at MESAP European activities
MIND4MACHINES: The first Open Call NOW OPEN

MIND4MACHINES is an H2020 INNOSUP project, composed of 11 partners from 8 countries, of which MESAP is partner and national contact point for Italy. The project aims at facilitating the cross-sector and cross-border support needed by manufacturing SMEs to adopt digital technologies towards smarter and greener production, in line with EU policies. Concretely, MIND4MACHINES will provide innovation support through direct funding to SMEs via two Open Calls.

The first call was published on 27 April and will remain open until 29 June 2022 at 5pm. The MIND4MACHINES calls are aimed at technology-supplying SMEs operating in the field of Industry 4.0 and manufacturing companies wishing to adopt Industry 4.0 solutions.
EPoSS Annual Forum 2022: Call for Presentations deadline expiring 

Last days to participate in the Call for Presentations of the EPoSS Annual Forum 2022: an opportunity to tell your latest innovations on Smart Integrated Systems in front of a European audience. If you would like to apply, please send your abstract (1,500 – 3,000 characters), together with your details and a short biography, to contact@smart-systems-integration.org by 27 May 2022.
The presentations will be selected by the Technical Committee of the EPoSS Annual Forum 2022. Invitations for authors of selected presentations will be sent out until 1 September 2022.
This year's EPoSS Annual Forum will be held from 4 to 7 October 2022 in Turin, Italy, hosted and co-organised by MESAP, under the motto Connecting Systems, Driving Transition.
HERE all the information for abstract submission
E2DRIVER final stage: Outputs and benefits achieved
On 9 and 10 May, the final event of the H2020 E2DRIVER project took place in Madrid. The main objectives of the project are to raise awareness among companies in the automotive sector on energy efficiency, training their staff to conduct energy audits and adopt energy efficiency measures. At the end of the project, here is an overview of the important OUTPUTS and concrete BENEFITS achieved: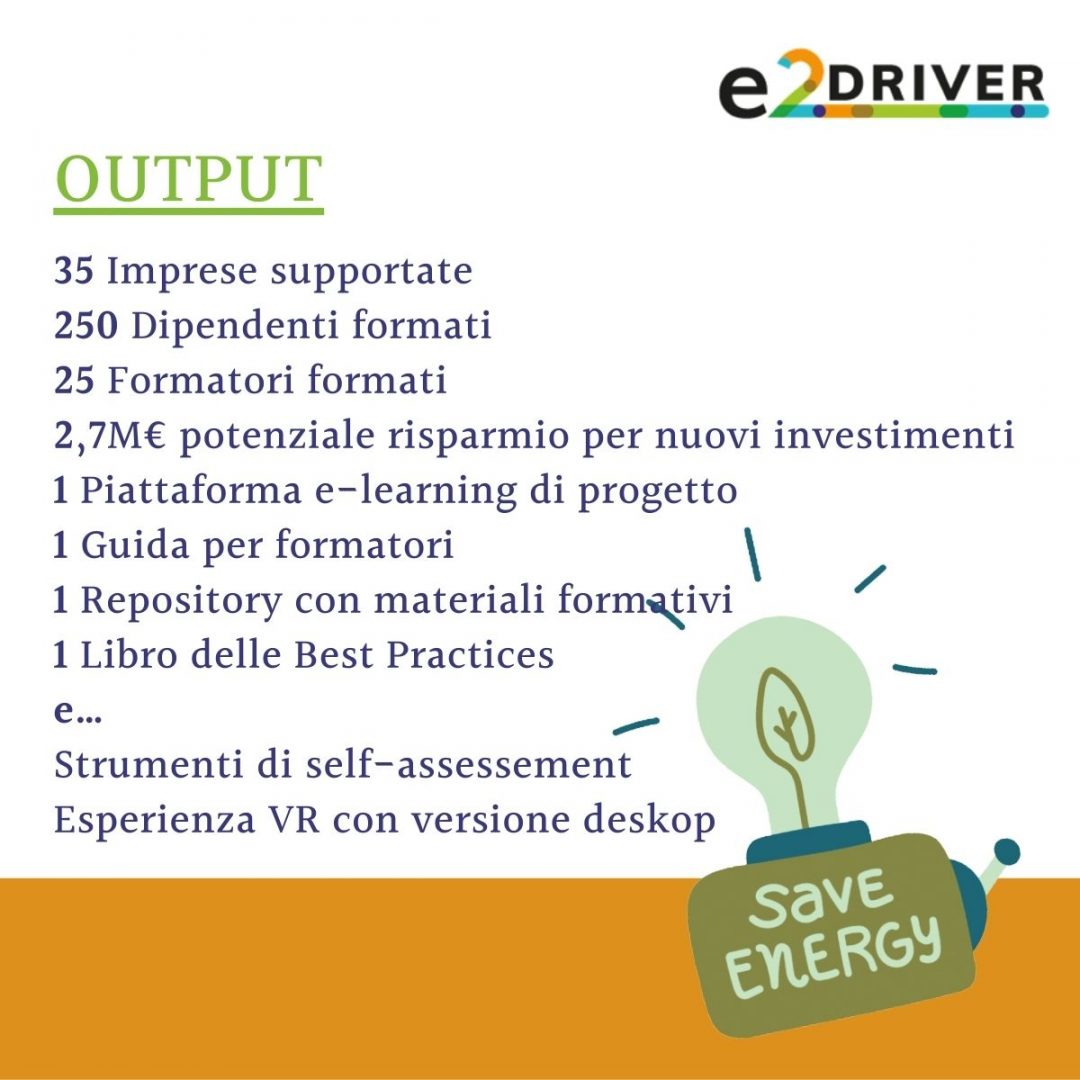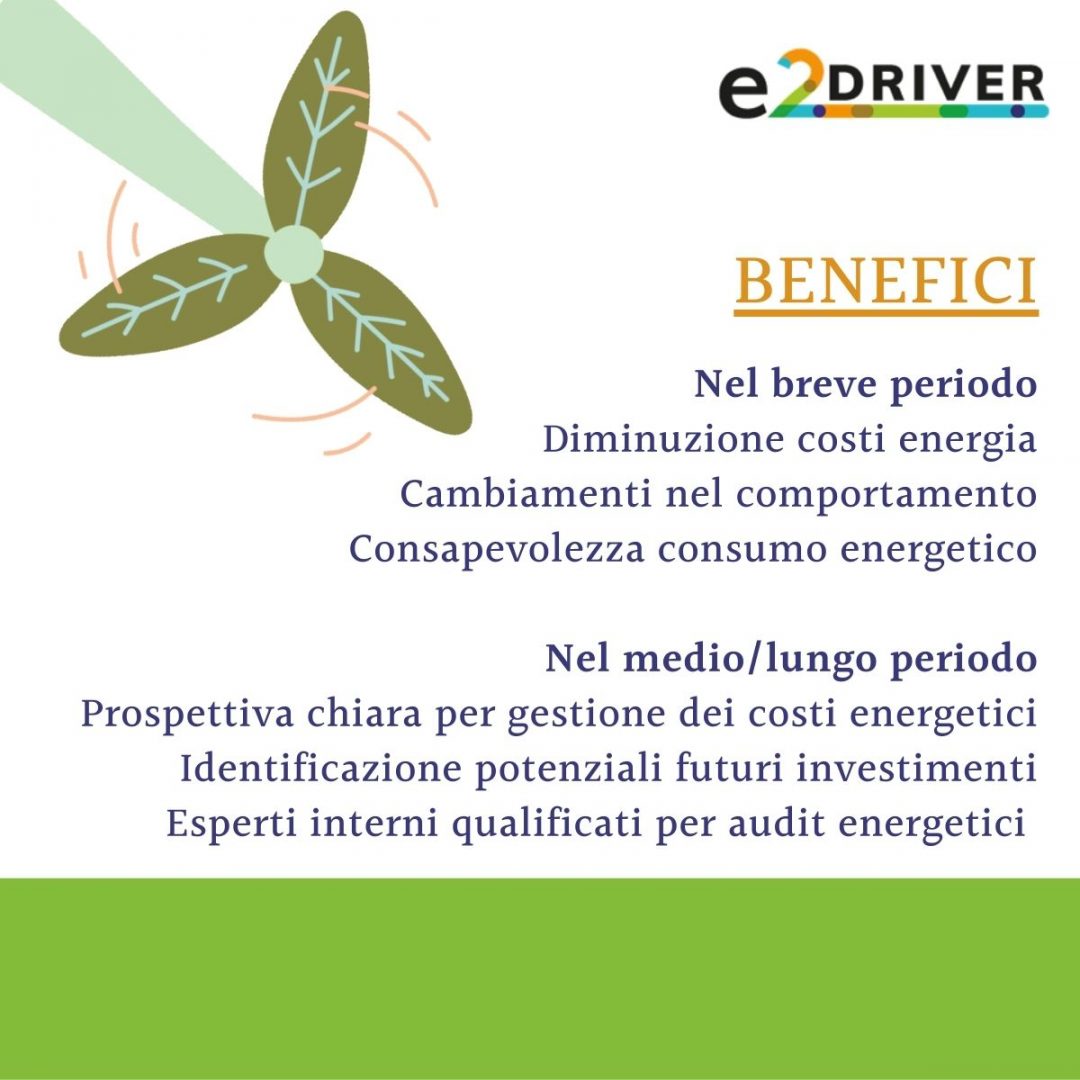 KDT JU Calls 2022: Information event
QUANDO: 31 May, 10.00 – 13.00, online

An information morning on 31 May dedicated to the KDT JU Calls 2022, by colleagues from ECSEL/KDT Italy and AEIT. The KDT JU Calls for 2022 are open from 3 May with an application deadline of 21 September 2022.
The Key Digital Technologies Joint Undertaking – the public-private partnership for research, development and innovation – funds projects dedicated to Key Digital Technologies. It is the successor of the ECSEL JU programme and supports its ongoing projects. Through the KDT JU, European industry, SMEs and research and technology organisations (RTOs) are supported and co-financed by the KDT participating states and the European Union.
Participation is free of charge, after registration HERE
Silicon Europe Alliance Community
SCALE UP 2022: Opportunities for SMEs
QUANDO: 7-9 June, Sofia (Bulgaria) and online  

As part of the newly promoted SILICON EUROCLUSTER, in which MESAP is a partner together with colleagues from the Silicon Europe Alliance (SEA), we highlight the Scale UP 2022 event, organised by ICT cluster. The initiative brings together technology suppliers and manufacturers, BSOs and organisations that manage funding for innovations from different European countries. It is an opportunity to obtain information on funding available in the period 2022-2023 for digital transformation, internationalisation, market trends and to generate new business and commercial contacts.
The B2Bs will take place on 7 June in a dedicated area and will be organised in advance. On 8 and 9 June there will also be an online matchmaking opportunity via the B2Match platform. Registration open until 4 June 2022.
EPoSS Community
European Workshop on the Future of Edge AI (EFEA)
QUANDO: 8-9 June 2022, online

The EPoSS Task Force dedicated to the theme 'AI at the Edge' invites all AI experts, system integrators and hardware specialists to the first European workshop dedicated to the theme Future of Edge AI, which will be held on 8 and 9 June 2022, online.
The workshop will address key research and development activities such as AI hardware accelerators, edge service orchestration and data processing, analogue processing, reinforcement learning, deployable, reliable and secure edge AI for critical applications, low-power systems and emerging markets such as edge AI for space technologies and the industrial metaverse.
Sistema dei Poli d'Innovazione Piemonte
Innovation Mission Hydrogen: 3 days dedicated to energy in Turin
QUANDO: 29 June – 1 July 2022, Torino (Italy)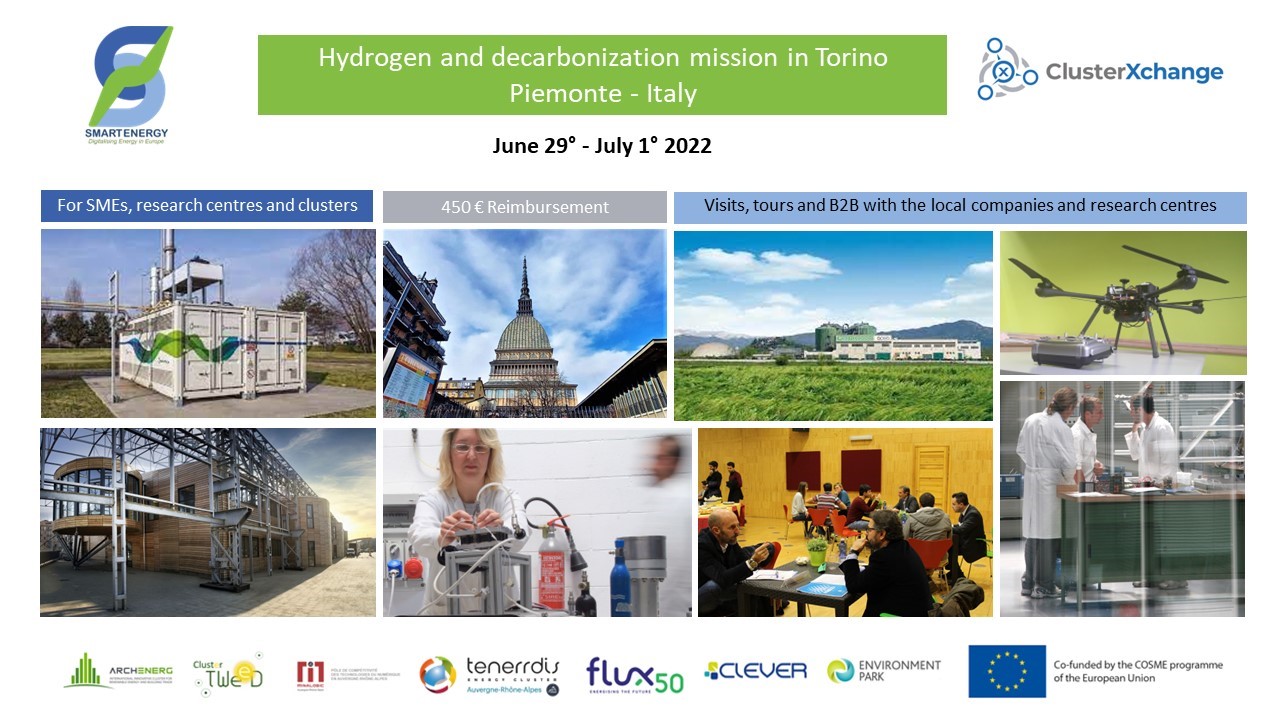 A three-day mission organised as part of the SMARTENERGY project, funded by the COSME programme and coordinated by the CLEVER Cluster, launched in February 2020 to support European SMEs and organisations scaling up their participation in the ClusterXChange programme. The initiative includes visits and meetings with important innovation players and with a special focus on hydrogen technologies. You can meet technology players, end-users, engineering and knowledge institutes and utilities from Italy, France, Hungary and Belgium.
The initiative is part of the activities of the Piedmontese Cluster System to strengthen the competitiveness of the region.
To participate, express your interest by 10 June. HERE further information 
Silicon Europe Alliance Community
Semicon Taiwan 2022: In Taiwan with the Silicon Europe Alliance
QUANDO 14-16 September 2022, Tapei (Taiwan)

SEMICON Taiwan is the most important annual trade event for Taiwan's micro and nanoelectronics industry and one of the largest semiconductor trade fairs in the world. European industry cannot miss it: the Silicon Europe Alliance, of which MESAP is a member, is setting up a joint booth where 12 European companies will be hosted. The initiative is part of the activities shared with the Silicon Europe Alliance, the European metacluster dedicated to technologies and skills in the fields of electronics, digitisation and software.
>> Interested companies can write to Alessia Menduni, a.menduni@mesap.it, by 31 May. They will be put in touch with the coordinator of the initiative.