From 1st September 2022, 30 EUROCLUSTERS have been launched to implement the EU Industrial Strategy. Euroclusters are cross-sectoral, interdisciplinary and trans-European strategic initiatives of industry clusters and other economic actors (research organisations, companies, etc).
€42 million from the Single Market Programme have been allocated to this first wave of Euroclusters, composed of 171 partners, covering 23 different countries (22 EU Member States) and 14 industrial ecosystems.
20 Euroclusters work on initiatives in specific industrial ecosystems while 10 work across several industrial ecosystems.
DREAM EUROCLUSTER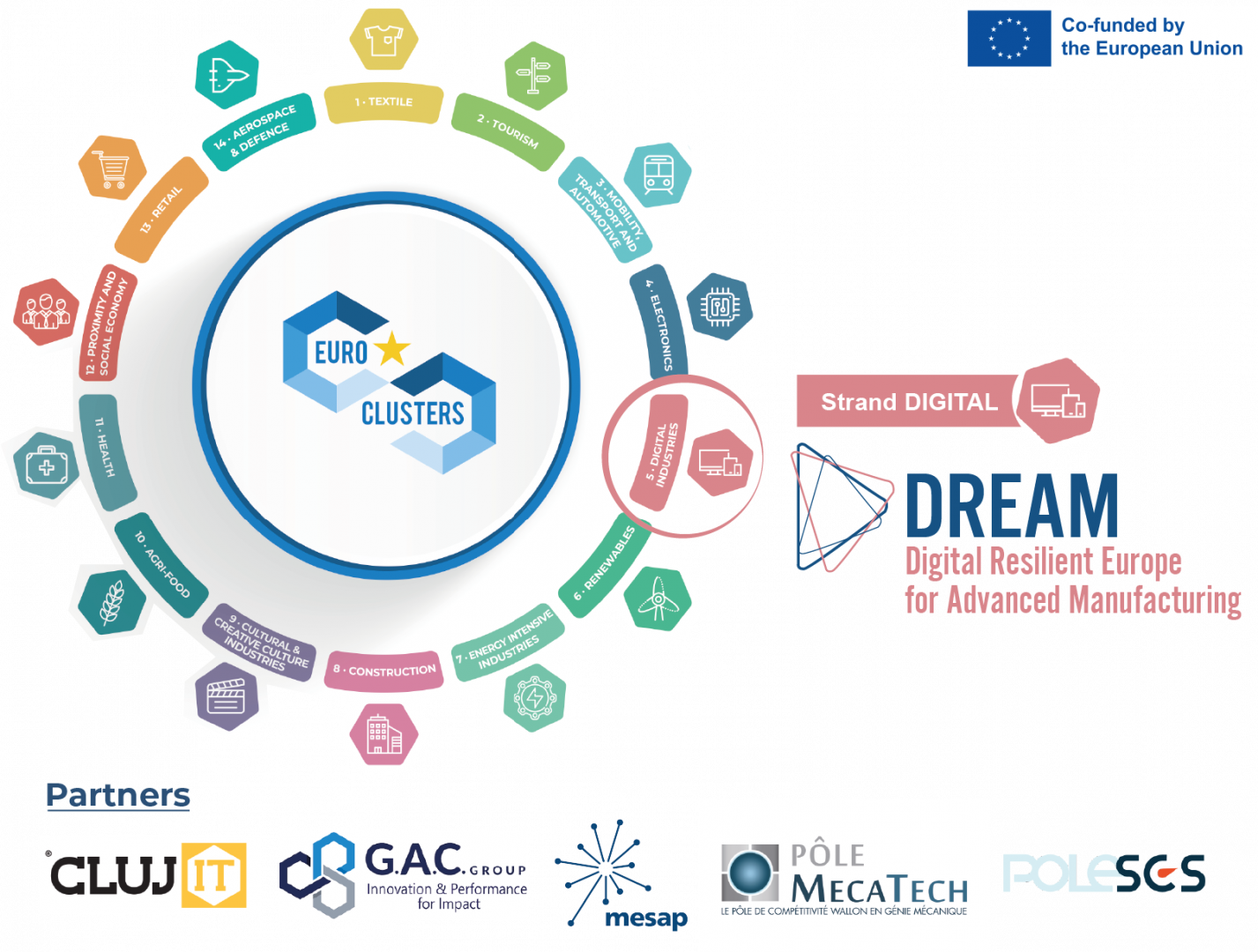 DREAM put in place a cascade funding mechanism for innovation vouchers, to support the deployment of 35 projects from digital ecosystem into manufacturing context, for more digitalized sector, with a focus on efficient management of resources.
Under this Open Call, DREAM selected up to 35 collaborative projects. The total budget for the DREAM Open Call is 1.050.000 €.
DREAM Financial Support allocated to collaborative consortium applying to the DREAM Open Call, and demonstrating how the implementation of innovative digital technologies support the green transition of manufacturing processes, especially concerning the improved and more efficient use of resources (energy, water, supplies, materials).

The industrial sectors addressed in the DREAM Open Call are manufacturing industries, including electronics, nanotechnologies, automotive, mechanicals, aerospace, medical & pharmaceutical, construction, energy & utilities, marine (naval industries), metal working, chemicals, food & beverage, logistics, printing, textile, luxury, cosmetics, wood, paper, furniture, consumer products, etc.
Technologies involved:

Artificial intelligence, Big Data and analytics
Internet of Things (IoT)
Cloud Computing
Autonomous Robotics
Immersive technologies (AR/VR)
Simulation
System Integration
Cybersecurity

Call's details https://dream.grantplatform.com/page/rkdyxprW
OPEN CALL RESULTS (closed 1st June 2023)
101 applicants (74 SMEs & 27non SMEs)
79 proposals registered in the platform
50 proposals finalised (50% of the lasta day!)
Type of proposal (TRL) : 31 (TRL 6) and 19 (TRL 8)
🎯1st of September 2023 – projects Execution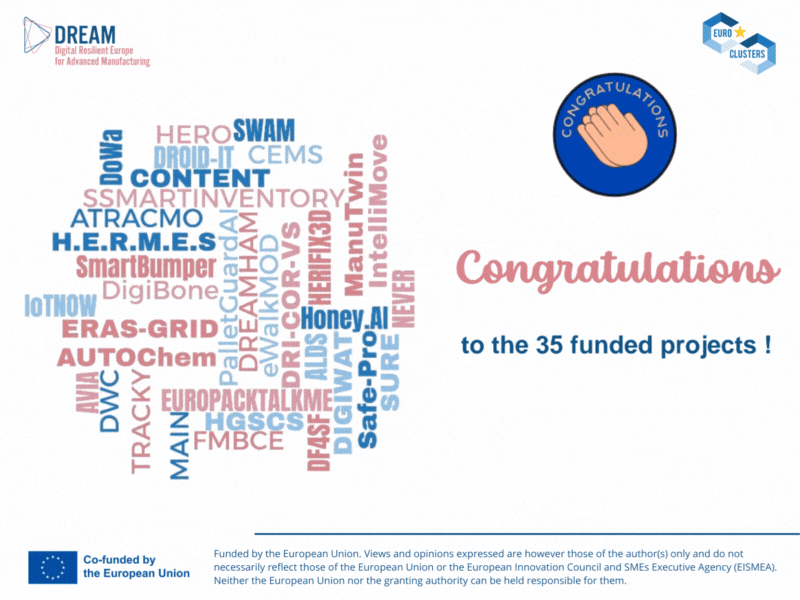 😺 WHAT' NEXT: How to access to new markets & opportunities? Target countries: Canada, Japan, USA
In the framework of the DREAM project, we are proposing support to SMEs in their internationalisation process and selected three countries: Japan, Canada and the United States.
These three countries are of high interest for European SMEs in advanced manufacturing as they are strong players in the global market.
Understanding the current market situation, the local advanced manufacturing sector, the supportive policies, the trade and economic relationship and the cultural differences is key to successfully export there.
To provide you strategic information, tips and tricks, tools, and contacts to access these markets, we organise a set of online webinars with experts in the framework of the Eurocluster DREAM Digital Resilient Europe for Advanced Manufacturing.
• Japan: 24th of October 2023 at 10AM CET
• Canada: on the 24th of October 2023 at 2PM CET
• US: on the 25th of October 2023 at 2PM CET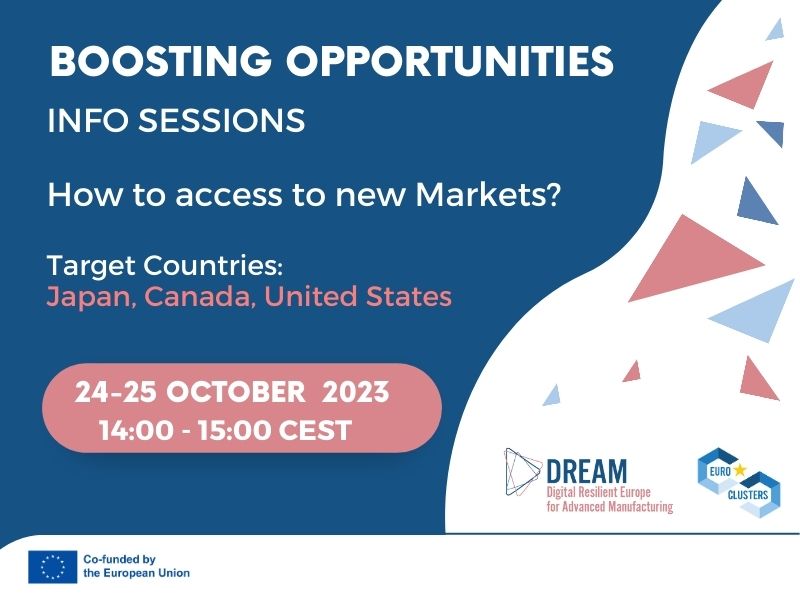 The project is coordinated by Pôle SCS, and includes Pôle Mécatech, G.A.C Group and MESAP, all already partners in IoT4Industry project (2018-2020). The project represents an opportunity to make exploitable and sustainable the collaboration and the experiences started in 2018, bringing the synergies beyond by including the Romanian cluster of Cluj IT focused in information technology field.
#staytuned: LinkedIn @DREAM Eurocluster
DREAM NEWSLETTER ARCHIVE