From 1st September 2022, 30 EUROCLUSTERS have been launched to implement the EU Industrial Strategy. Euroclusters are cross-sectoral, interdisciplinary and trans-European strategic initiatives of industry clusters and other economic actors (research organisations, companies, etc).
€42 million from the Single Market Programme have been allocated to this first wave of Euroclusters, composed of 171 partners, covering 23 different countries (22 EU Member States) and 14 industrial ecosystems.
20 Euroclusters work on initiatives in specific industrial ecosystems while 10 work across several industrial ecosystems.
DREAM EUROCLUSTER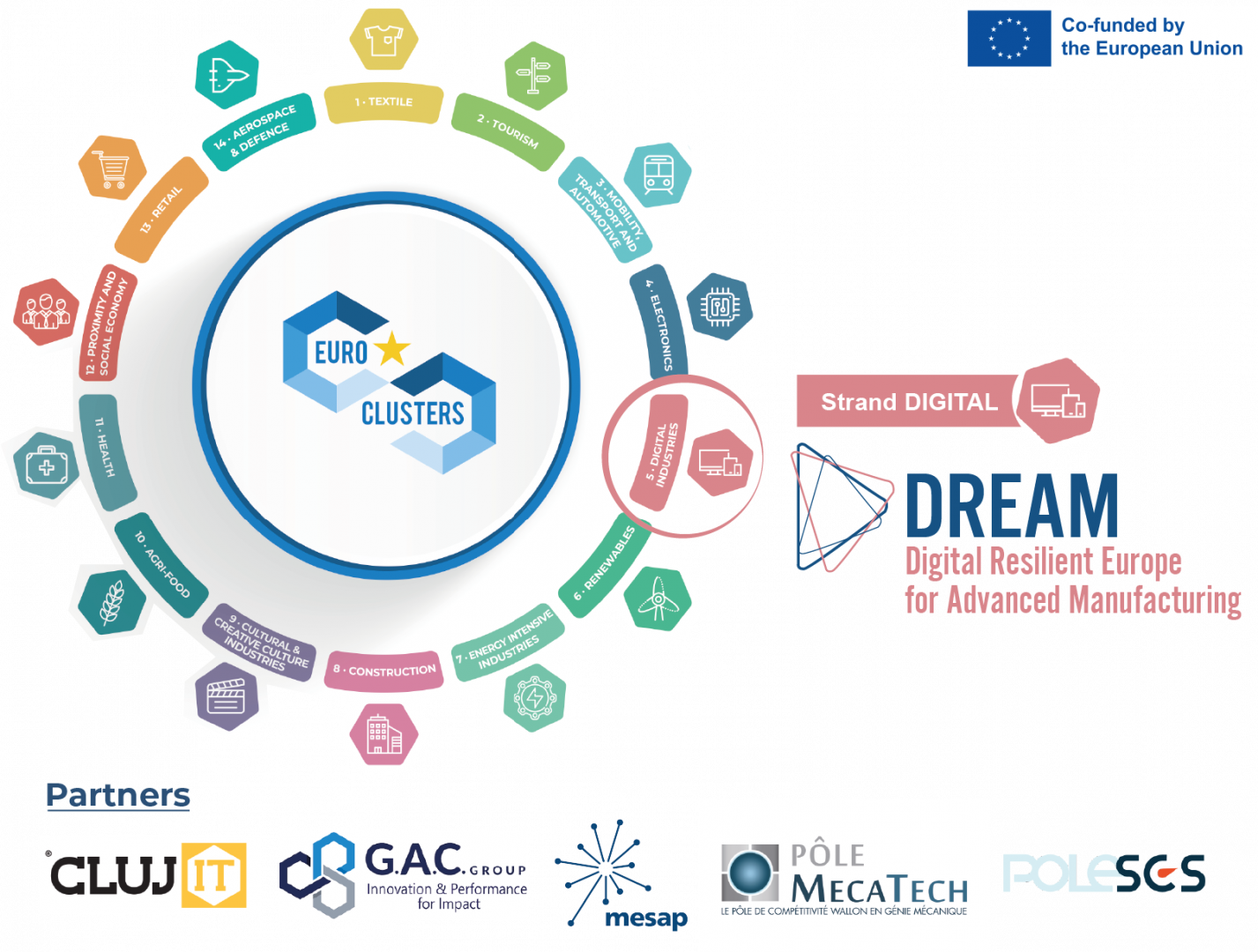 MESAP is involved in DREAM EUROCLUSTER (strand DIGITAL) focused on digital and smart manufacturing. It aims at supporting clusters' activities towards SMEs to speed up the adaptation of digital technologies and processes to transform manufacturing companies as greener and more digital.
The main objectives are to build resilience and accelerate transition to green and digital economy, to initiate, develop and maintain an EU-level long-term strategic partnership between SMEs from the digital ecosystems and the manufacturing domain, to foster up and re-skilling the workforce and to boost access to global supply and value chains.
DREAM will put in place a cascade funding mechanism for innovation vouchers, to support the deployment of 35 projects from digital ecosystem into manufacturing context, for more digitalized sector, with a focus on efficient management of resources.
The project is coordinated by Pôle SCS, and includes Pôle Mécatech, G.A.C Group and MESAP, all already partners in IoT4Industry project (2018-2020). The project represents an opportunity to make exploitable and sustainable the collaboration and the experiences started in 2018, bringing the synergies beyond by including the Romanian cluster of Cluj IT focused in information technology field.